Team Rector of the Benefice of Dawlish with Holcombe, Cofton and Starcross
The Rt Revd Jackie Searle, Acting Bishop of Exeter, Patrons and Parish Representatives are delighted to announce that, subject to the completion of the statutory formalities, an offer has been made for the post of Team Rector of the Benefice of Dawlish with Holcombe, Cofton and Starcross, known as the Dawlish Coast Mission Community, to Revd Linda Cronin, who is currently Rector of Glenavy Parish in the Diocese of Connor in the Church of Ireland.
This offer has been accepted. Her licensing by the Acting Bishop of Exeter will take place on February 15th 2024.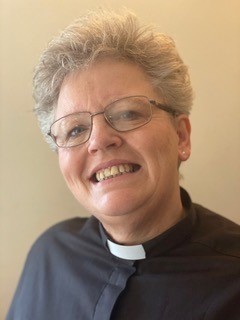 St Greg's Kids Swap Shop
The next Kids Swap Shop will be on Tuesday 6th December from 9am-11am.
Holy Communion at St Gregory's
An open invitation to Midweek Communion Each Wednesday at 10am, a group gathers in the upper narthex at St Gregory's to join in a quiet celebration of Holy Communion. The service was moved up there during the winter, in order to be warm, but when Spring came, the regulars were unanimous in staying there as they found the more comfortable, intimate space to be particularly appropriate for this celebration. Some come in addition to their attendance on Sundays. For others, it's an alternative which they recommend to anyone who is finding Sunday services difficult, as many people do, especially in later years. Though the service is in St Gregory's, EVERYONE is welcome. It's for the whole benefice. We are grateful to the retired clergy who make it possible every week. Please join us!
Churchyard at St Gregory's
The St. Gregory's Biodiversity Project aims to manage areas within the churchyard for the benefit of wildlife and biodiversity. We are a small group of volunteers who usually work on Wednesday mornings, but other times are possible. We encourage people to adopt a patch, or particular graves, to look after. Perhaps you have expertise to contribute, or a few seeds to spare.
We have uncovered many headstones that have been swallowed by vegetation and there are many more awaiting discovery. We work in liaison with Teignbridge District Council and the PCC.
If you would like to get involved, please contact me, Dave Hutton at dave.dawlishww@gmail.com.
Reaching Dawlish Event
The next Reaching Dawlish event will be at Hope Centre at 6pm on Friday 24th November beginning at 6pm and finishing at 9pm at the latest.
The purpose of this event is for lead ministers to share their strategy to foster a greater sense of ownership and participation by local Christians. This will be an enjoyable, informal dinner to celebrate all that God is doing on mission in our community and to give everyone the opportunity to have their say in what happens next.
Lead ministers are encouraging everyone locally to get involved in some way, whether that's attending, volunteering in a practical way, or praying for the work. Free tickets may be booked on Eventbrite or you may contact Mark Jones directly on 07729998334 or by email.
Coffee morning in the Upper Narthex, St Gregory's
This will be on November 25th, 10.30am-12.30 - £3 entry. There will be unlimited tea, coffee and squash with chocolate biscuits, cake or mince pies. Lots of fun and fellowship. All proceeds from this event will be divided between Flying Leaps charity and St Gregory's Organ Fund. We hope to see you there.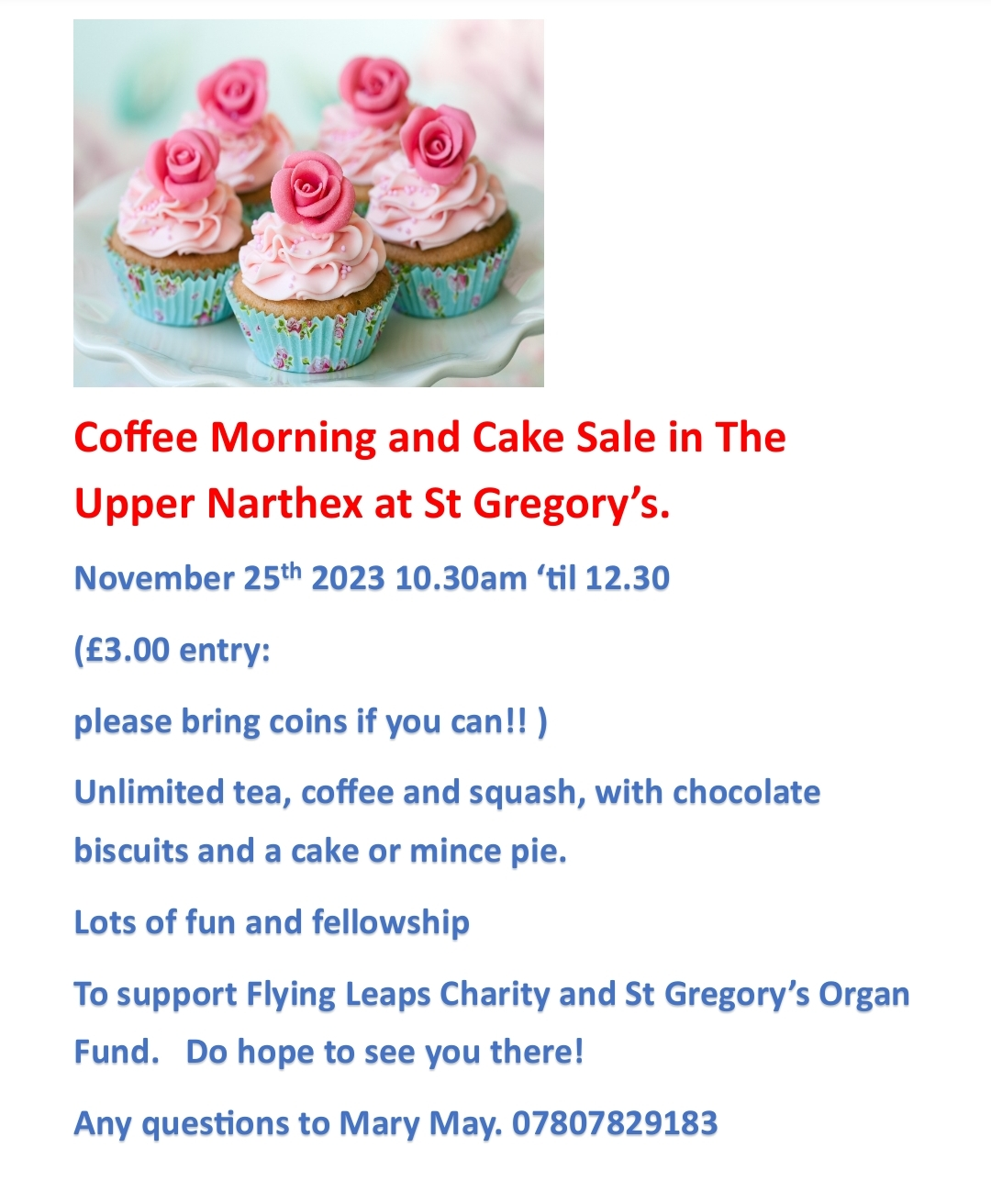 Dawlish Food larder
The Dawlish Community Larder is in desperate need of reusable shopping bags. If you have too many in your cupboards, please drop them off at the Methodist Church, The Hope Centre, The Manor House or the Hubstore. Many thanks!