Who rings the bells, and why?
The bellringers at St Gregory's are a real community group. Several ringers are members of the church but many others are not, and anyone from the town can join us. Ages range from about 9 or 10 years old up to the retired. We ring on Sundays to let the town know the church service is going to start, but we also ring bells because we enjoy it! Sometimes called 'the original heavy metal', we love the sheer pleasure of swinging heavy bells through 360 degrees, skilfully working together to produce well-ordered sounds; the mental challenge, the keeping fit, the cameraderie…. you name it, ringing's got it!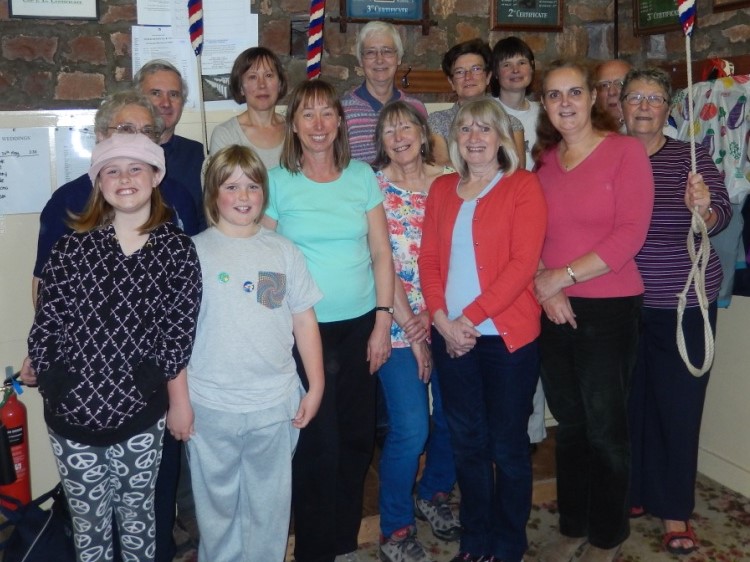 Dawlish Ringers
Ringing for Special Occasions
Several times a year we ring to help the town mark national events or special days. These might be Royal birthdays like the Queen's 90th (pictured, with bunting), the anniversary of VE Day, Christmas, Remembrance Sunday (with the bells partly muffled), St George's Day, Battle of Britain Sunday, the Heritage Open Day in September, and more recently BBC Music Day in June which requests bells as part of it!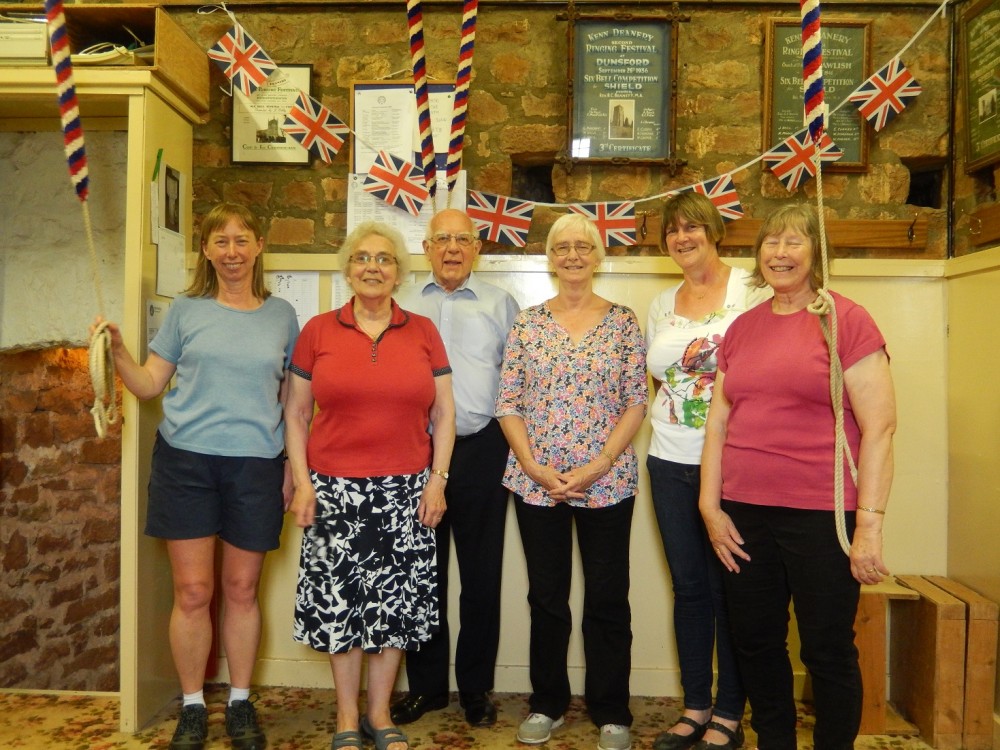 Wedding Bells
If you are getting married and love tradition, you can book through the church to have the bells rung. You will get 6 or 8 of the skilled ringers performing just for you as the bride and groom leave the church. Book well in advance to make sure enough ringers keep the date free to ring for you!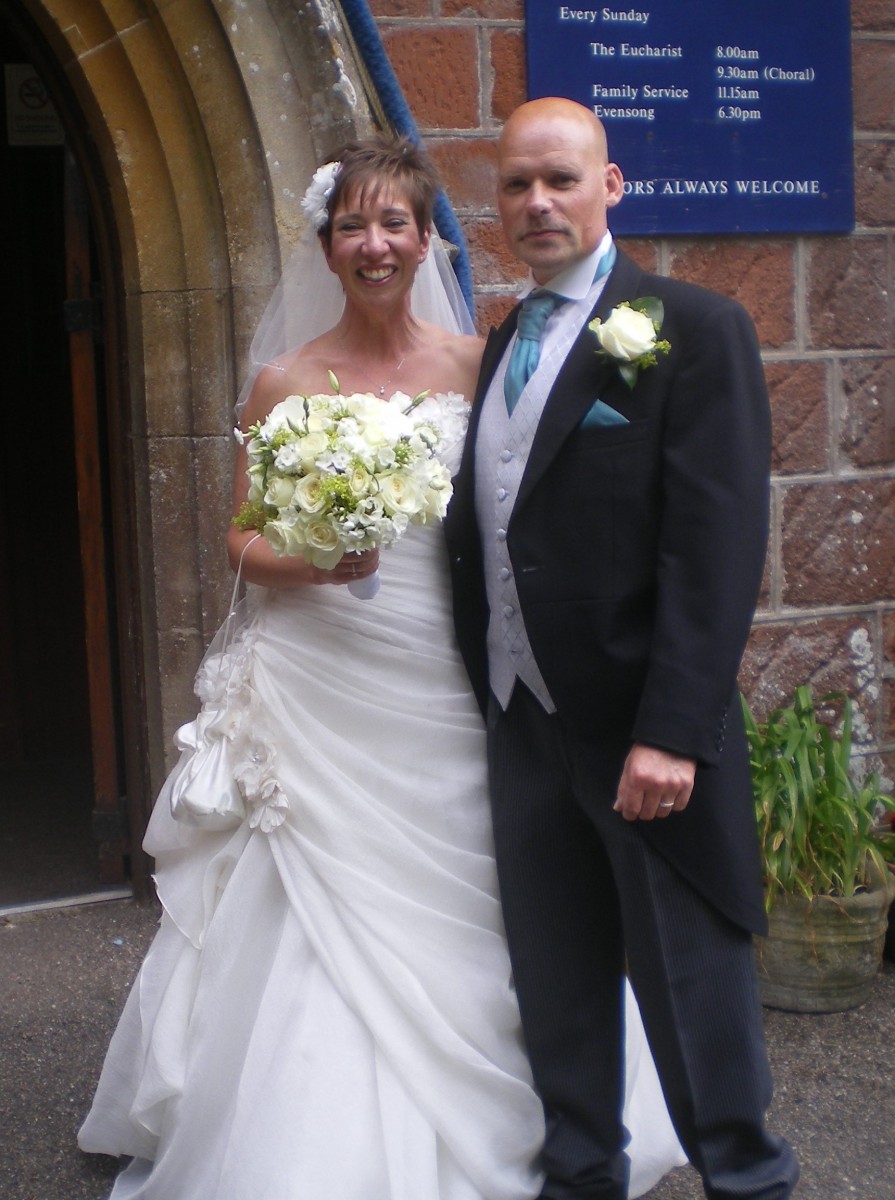 Challenging Performances
The more experienced ringers ring 'methods' where they make the order of the bells change every time they sound. This takes lots of skill and concentration. Sometimes we ring a 'quarter peal' like this as a special performance, ringing well over 1,000 different 'changes' without a break, taking about 45 minutes. There's a great sense of achievement. The photo shows a young ringer after his first quarter peal, with the others who rang with him.
A couple of times a year, very experienced ringers come and ring a full peal of over 5,000 changes, taking nearly 3 hours. None of them can stop for a break during it!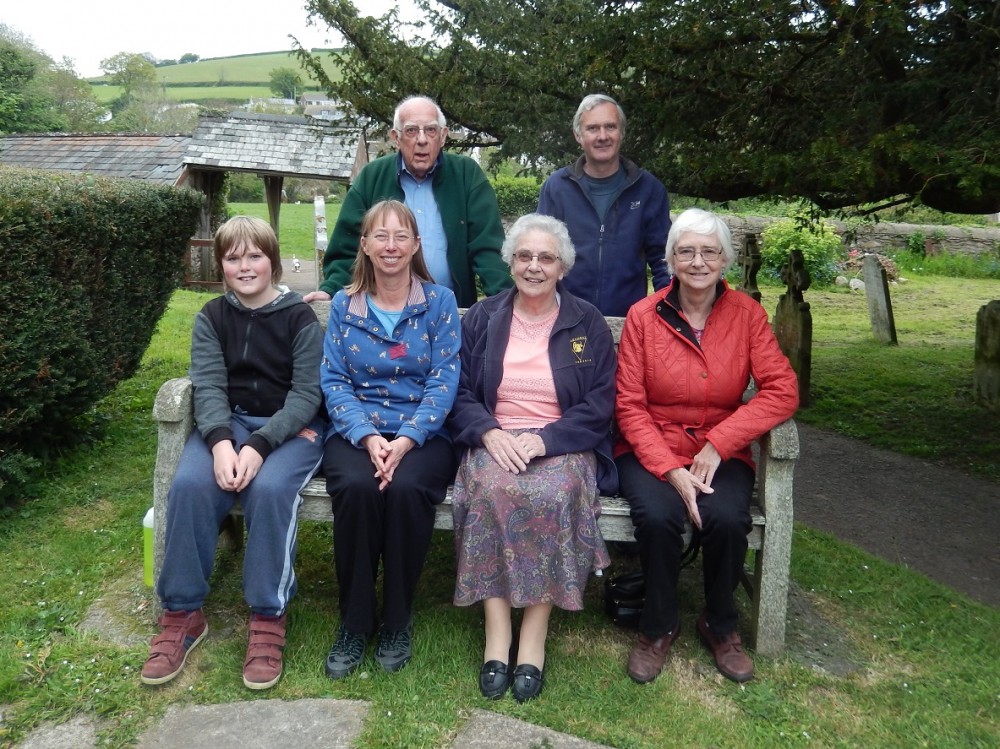 Learning to Ring
Anyone can give it a go. It takes several weeks to learn to ring a bell on your own, as there's quite a skill in co-ordinating your movements to pull and catch the rope of a bell just the right amount at the right time. Then you will start to ring with the other ringers, learning to keep your bell in time with them. You can keep it simple, or go on to learn much, much more. If you'd like to give it a try, contact the Tower Contact (see contact details), or drop in one Wednesday evening for a chat about it. We use the structured 'Learning the Ropes' scheme, which can be explored in detail on the link below:
http://www.learningtheropes.org/scheme/learning-the-ropes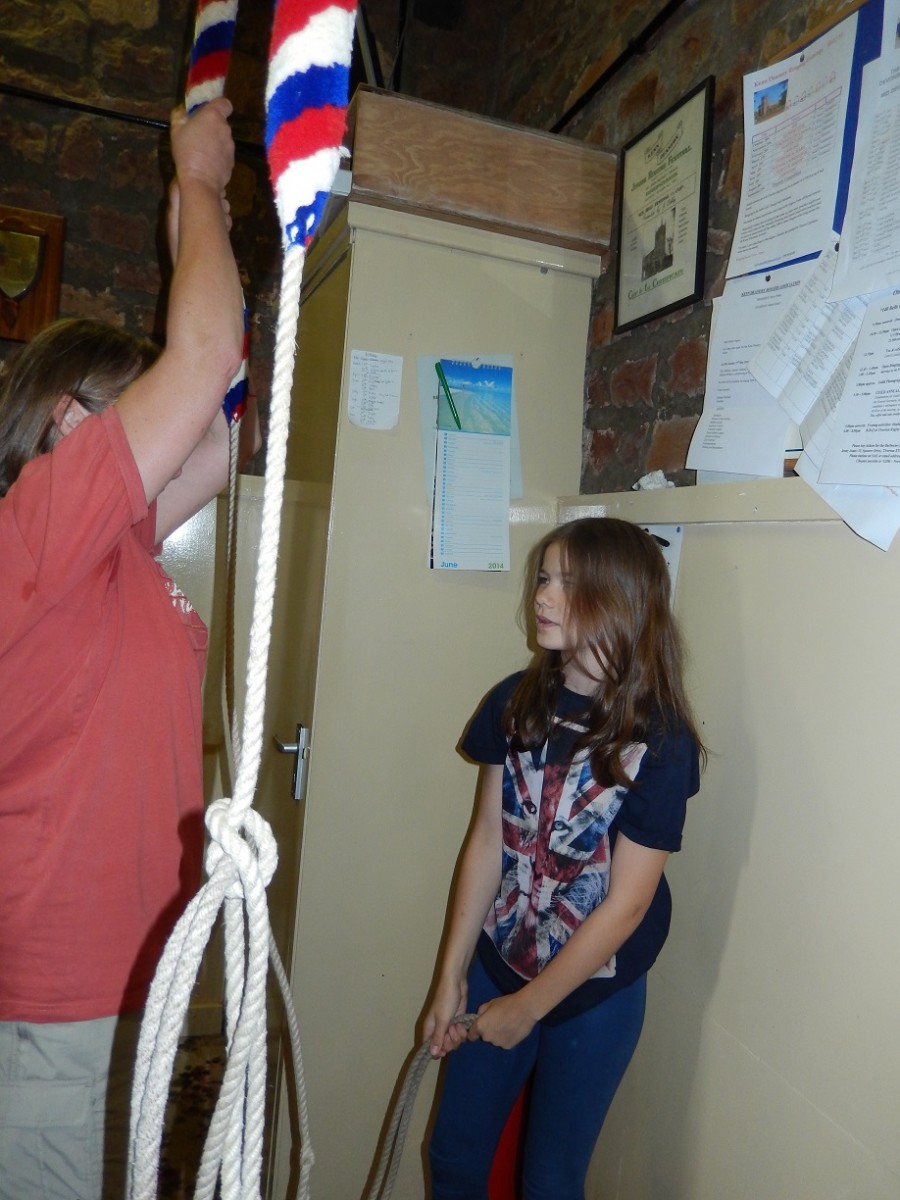 Ringers Getting Out and About
We are affiliated to the Guild of Devonshire Ringers, which provides opportunities to ring in many places in Devon with regular branch practices and training days. We are also part of the Kenn Deanery Association and take part in their ringing festival each September. One year we did quite well and won a silver trophy! Occasionally we all go on a day's outing to ring at 4 or 5 other churches.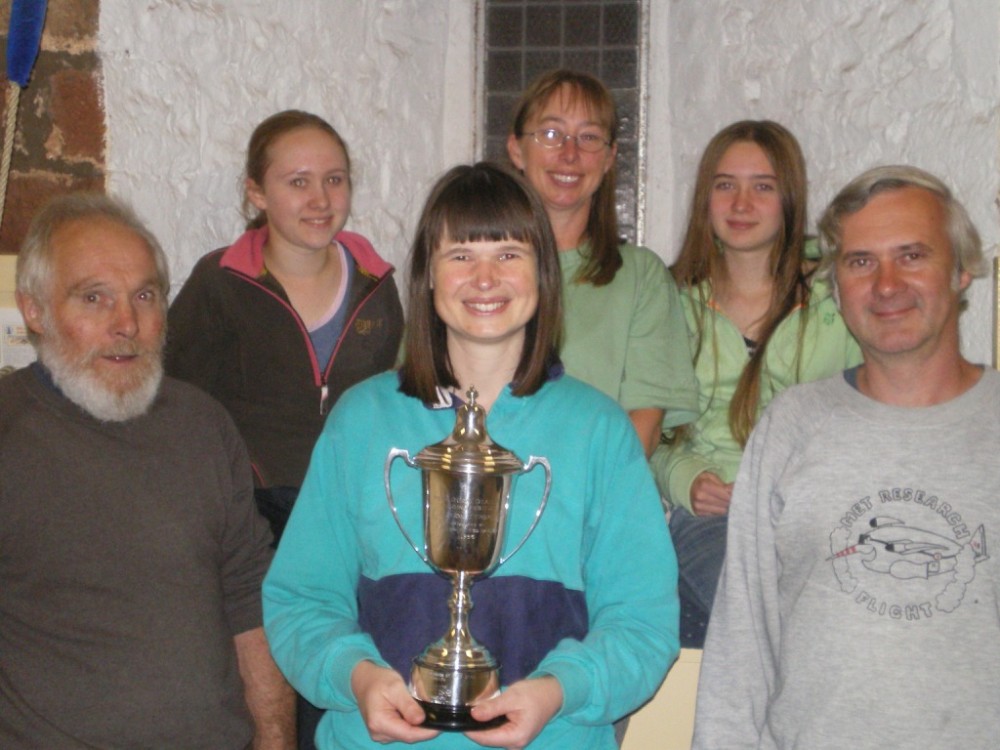 Ringers Socialising
Whenever we ring there's a friendly atmosphere, but we get more time to talk at length in the pub after most practice nights. We also have meals and parties to get together socially.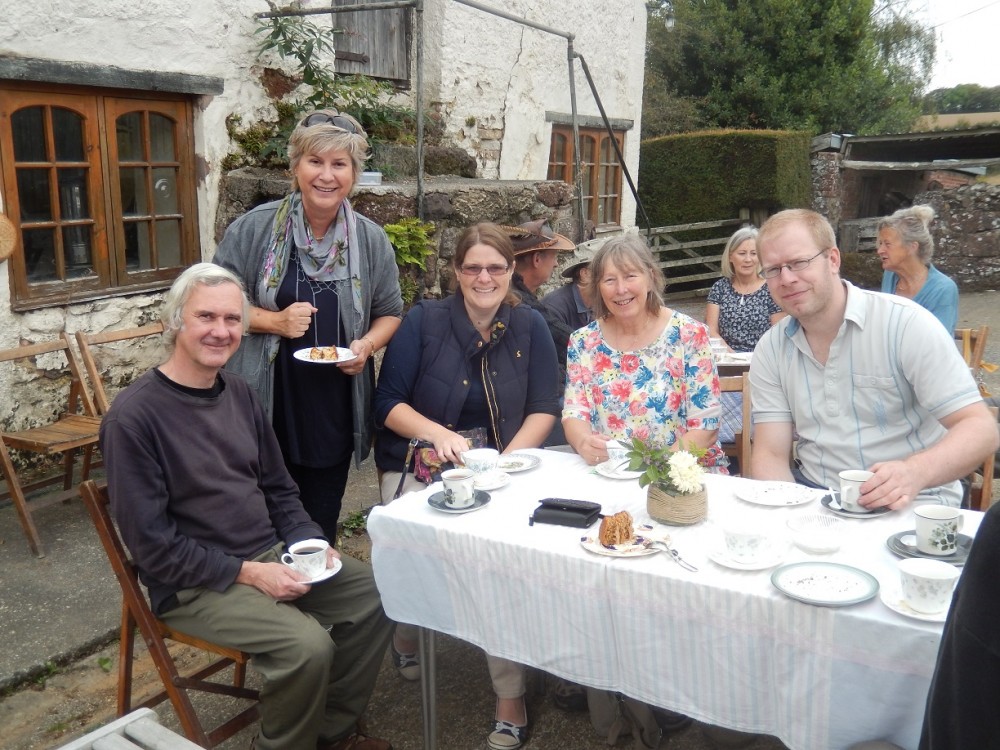 The Bells
And finally, the eight bells themselves, which are hung high in the mediaeval tower, the oldest part of St Gregory's church. Six of these were cast by a local bell founder, John Pennington III in 1784 and two more were added in 1911. They have all been in regular use ever since.
The original wooden bell-frame was replaced with a modern metal frame in the 1950's. Each bell is mounted on a huge wheel, with a rope going round the wheel and through a hole to the ringing chamber below, from where they are rung. A wooden 'stay' allows each bell to be rested in an upwards position. The bells form an octave in the key of F sharp, the heaviest being over 11 hundredweight or approximately 600kg. This is similar to the weight of a grand piano, yet with the leverage of the rope and wheel, it is relatively easy for a skilled ringer to control. Bells are made from bronze – an alloy of copper and tin.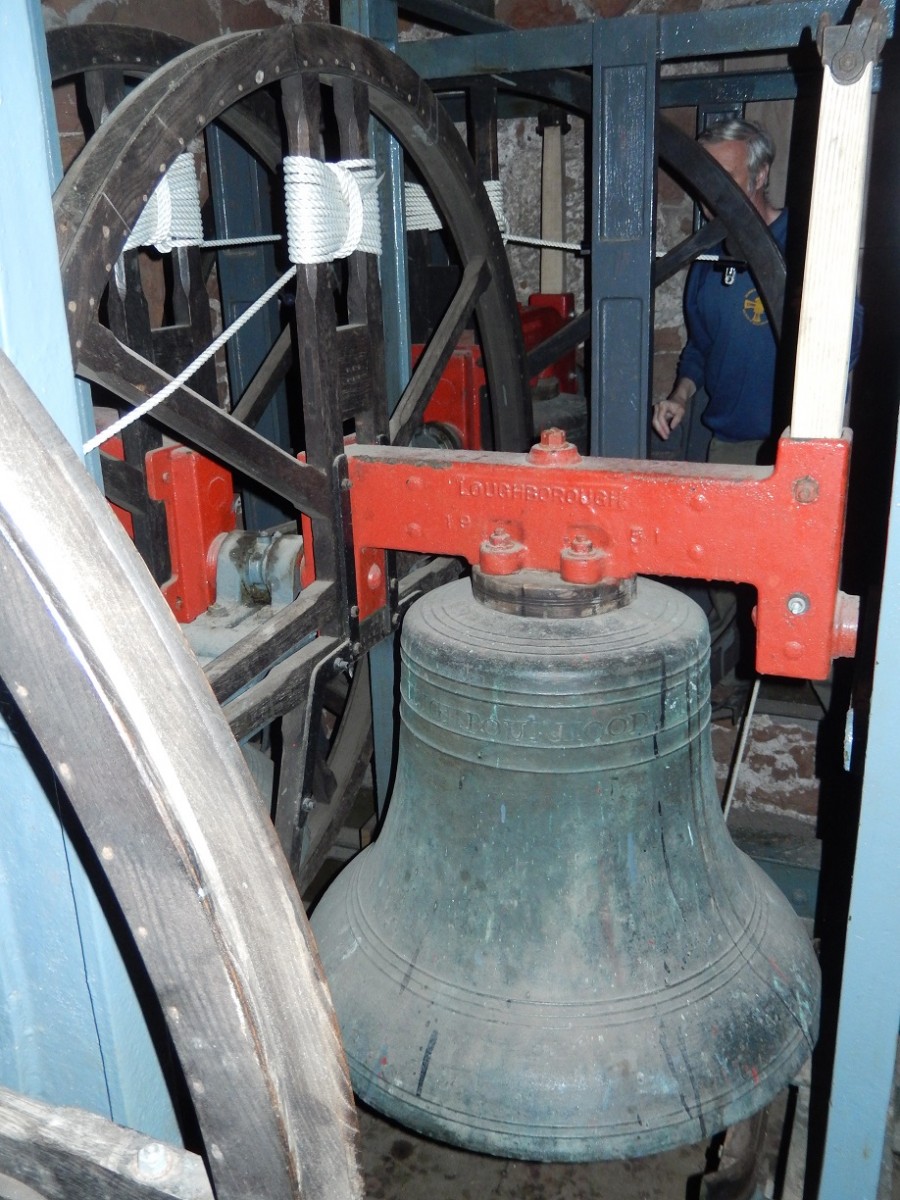 Contact
Ringing Master - Michael Wallis and the Tower Contact: Cath Chappell: or by phone 07880557772.
Visiting ringers to us are always welcomed, whether they are individuals dropping in, or whole groups who book their visit in advance.
We practice every Wednesday from 19:30 to 21:00, sometimes starting at 19:00 for new beginners.
Sunday ringing is from 9.15am to 9.45am.